Orbera Intragasatric Balloon Information
ABOUT THE ORBERA™ INTRAGASTRIC BALLOON
The ORBERA™ Intragastric Balloon is a new, non-invasive procedure designed to help adult patients combat obesity, lose weight, and keep the weight off. * If you're an adult with a Body Mass Index of 30 to 40 who has not succeeded with more conservative weight loss methods, the Gastric Balloon will provide an excellent way to control your food intake and lose weight.
This soft yet durable silicone balloon is part of the ORBERA™ Managed Weight Loss System. This non-surgical, two-part program begins by inflation of the gastric balloon to fill space within the patient's stomach, reducing the amount of food needed for feelings of fullness.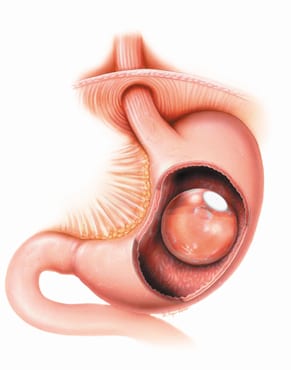 The procedure requires no surgery, and is performed endoscopically. Done under a mild sedative, the deflated ORBERA™ Gastric Balloon is placed into the stomach, then inflated with saline to roughly the size of a grapefruit. This procedure takes approximately 20-30 minutes, and patients can expect to be able to go home the same day.
After the procedure, patients undergo a 12-month coaching program to optimize weight loss with the Gastric Balloon.
Six months later, the balloon is deflated and then removed in the same way it was placed, endoscopically.
* Studies of the ORBERA™ Intragastric Balloon show that on average, people lose 3.1 times more weight than they would lose with diet and exercise alone over six months.
The Gastric Balloon requires no incisions, no surgery, and is intended for patients who have not had success with diet and exercise or pharmaceutical intervention, but are not appropriate for or do not wish to have invasive surgery.
Many of those trying to lose weight feel that there is little support or options between diet & exercise and surgery. The ORBERA™ Gastric Balloon fills this gap.
ORBERA™ already has 220,000 placements worldwide, and has proved to be a safe and effective weight loss solution.
The ORBERA™ Intragastric Balloon is an FDA approved procedure that will help you develop long-term, healthy habits to keep weight off over the years.
ORBERA™ is manufactured by Apollo Endosurgery Inc., a global leader in minimally invasive endoscopic surgical procedures.
*The results of this procedure are not guaranteed as they may vary from patient to patient.
return to Orbera Gastric Balloon Procedurecontinue to Orbera Gastric Balloon Results