Visión General del Sistema LAP-BAND
El cuerpo obtiene energía de los alimentos cuando estos atraviesan el canal alimenticio, el cual esta formado por la boca, el esófago, el estomago y los intestinos delgado y grueso. La digestión comienza en la boca con la masticación y la adición de saliva. Después de que el alimento atraviesa el esófago, este proceso continua en el estomago. Posteriormente, el estomago brinda un almacenamiento temporal para los alimentos. Los jugos gástricos, que contienen enzimas, sintetizan los alimentos de tal forma que la energía se pueda transportar a través del cuerpo por medio de la sangre.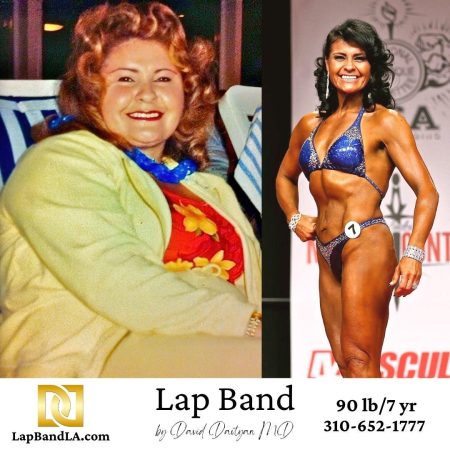 El Sistema LAP-BAND es un anillo de elastómero de silicona diseñado para colocarlo alrededor de la parte superior del estomago y llenarlo en su superficie interna con solución salina. Esto forma una nueva y pequeña bolsa gástrica y deja la parte mas grande del estomago debajo de la banda, de tal forma que se reduce el área de almacenamiento en el estomago y la bolsa que queda sobre la banda puede mantener solo una pequeña cantidad de alimento. La banda también controla el estoma (la abertura estomacal) entre las dos partes del estomago. El tamaño de estoma regula el flujo del alimento desde la parte superior a la parte inferior del estomago. Si el estoma es mas pequeño, usted se siente satisfecho más pronto y tiene una sensación de saciedad, por lo que no siente hambre entre las comidas.
La banda se conecta mediante un tubo a un puerto de acceso que se coloca bajo la piel durante la cirugía. Mas tarde, el cirujano puede cambiar el tamaño del estoma agregando solución salina dentro del globo interno, o extrayéndola, a través del puerto de acceso. Este proceso de ajuste ayuda a dirigir la velocidad de la perdida de peso. Si la banda esta demasiado floja y la perdida de peso es inadecuada, el agregar mas solución salina puede reducir el tamaño del estoma para restringir aun mas la cantidad de alimento que puede pasar a través de el. Si la banda esta demasiado apretada, el cirujano puede extraer un poco de solución salina para aflojarla y reducir el nivel de restricción.

continuar Lap Band Rancho Cucamongacontinuar Ventajas y Beneficios
FREQUENTLY ASKED QUESTIONS
Yes, it is possible for someone with a Lapband to throw up. Lapbands are adjustable silicone bands which are placed around the upper part of the stomach during a laparoscopic surgical procedure. The Lapband works by creating a smaller stomach pouch which limits the amount of food you can eat, thereby promoting weight loss.
The Lapband weight loss surgery, also known as Laparoscopic Adjustable Gastric Banding (LAGB), is a type of bariatric surgery that places an adjustable silicon band around the upper portion of the stomach to restrict the size of the stomach and reduce food intake. While Lapband surgery has been shown to be effective in helping people lose weight and reduce associated health risks, there is some concern that Lapband surgery may be associated with thyroid problems.
When considering Lapband surgery, one of the most important things to keep in mind is whether or not you can get financing. Lapband surgery is an elective procedure, meaning that it is not medically necessary and therefore typically will not be covered by health insurance. However, there are a few companies that offer Lapband financing options to those who qualify.