Gastric Bypass
The gastric bypass (sometimes referred to as Roux-en-Y Gastric Bypass, RYGB) is a commonly performed weight loss procedure frequently referred to as the "gold standard". During the gastric bypass procedure the stomach is divided with a special stapler, either openly or laparoscopically, separating it into a very small gastric pouch attached to the esophagus and a much larger blind gastric pouch attached to the duodenum. A loop of the small bowel is then brought up to the small gastric pouch and a small 1cm connection (anastomosis) is established. This way the food that arrives through the esophagus is restricted in volume because of the small pouch size and is also forced to pause within the pouch because of the small anastomosis size before passing into the small bowel, thus bypassing the big stomach, the duodenum and all of the digestive enzymes that empty into them. That is why this procedure is classified as both restrictive and malabsorptive.
The gastric bypass has been the most frequently performed weight loss surgery with hundreds of thousands of cases having been performed over the last two decades. It is also generally covered by medical insurance.
BENEFITS
As with other weight loss operations significant weight loss is assured. With gastric bypass patients typically lose 70% of their excess body weight within the first 2 years post surgery.
Because of your new smaller stomach, the amount of food you will be able to eat will be restricted.
Eating too many carbs or sweets will cause dumping syndrome, which will discourage you from indulging in your previous eating habits.
Because a portion of your intestines is being bypassed, less calories are absorbed by your body. As a consequence patients may experience frequent diarrhea containing poorly digested food.
Type 2 diabetes can be reduced and possibly even reversed completely, and is better controlled with this operation as compared to other weight loss surgeries.
Many patients have their high blood pressure reduced which allowed them to cut back on the amount of medication they take. In some cases, they don't even need the medication anymore.
Studies show that weight loss with gastric bypass is long lasting. 90% of patients keep off at least 50% of the excess weight that they lost after the procedure.
Losing weight has a snowball effect. With more energy and confidence, exercising will become easier, which can help you lose more weight than average when combined with a nutritious diet. 95% of patients say they have a better quality of life 1 year post surgery.
GASTRIC BYPASS COMPLICATIONS
As with any surgery, risks must always be taken into account and weighed against potential benefits.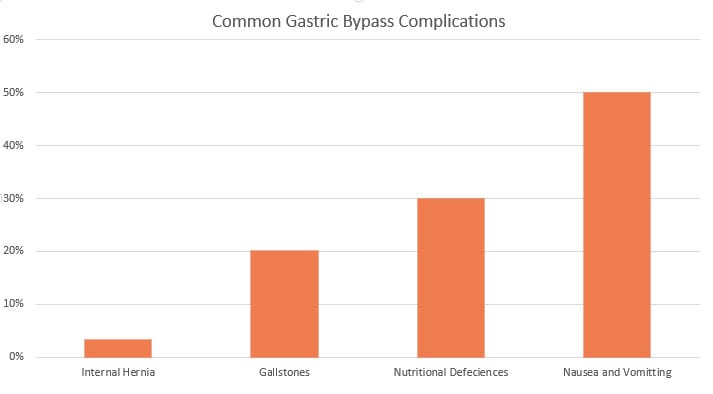 SERIOUS COMPLICATIONS
While the risk of developing these complications are relatively small, these serious complication can result in death. Deaths occur in less than 1% of gastric bypass surgeries.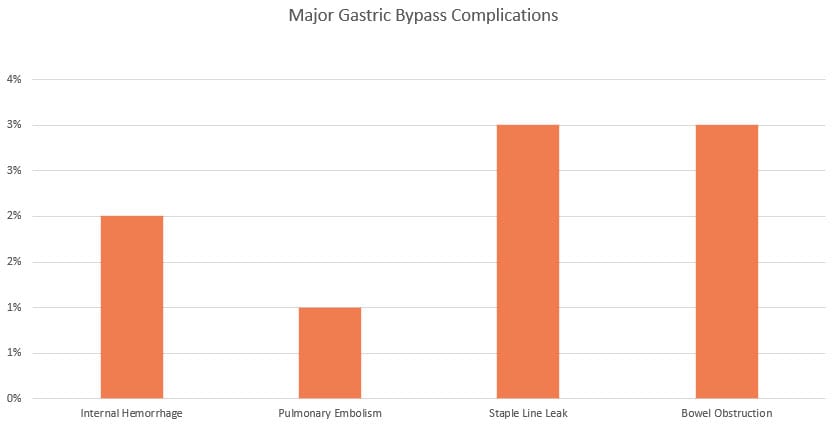 References: Schauer, CC, Annals of Surgery
Pulmonary Embolism
A post-surgery blood clot that goes to your lungs is called a pulmonary embolism. This stops the ability of your lungs to exchange blood/gas. Common symptoms are fainting, shortness of breath, chest pain, shock, rapid heart rate. In some cases, it may cause death.
This complication can be resolved in many instances by administering blood thinners, but other medications, such as thrombolytics, which break up bigger clots, or even surgery may be necessary.
Staple Line Leaks
Sometimes the staples used can stop working, causing a leakage of bowel and/or stomach contents into your abdomen. Often time these leaks can be fixed by the doctor. Some symptoms to look out for are severe pain, increased heart rate, and fever. While minor leaks can be repaired by resting the stomach and using IV feeding until the leak is healed, more serious leaks will need to be repaired surgically.
Small Bowel Obstruction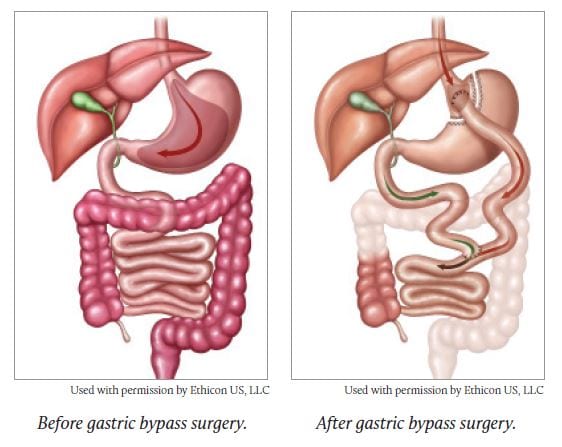 An obstruction of the small bowel is a complication that can occur at any time. Some symptoms to look out for are abdominal pain, swelling and vomiting. In order to determine if a small bowel obstruction has occurred, the doctor will order a CAT scan and/or perform exploratory surgery should the situation call for it.