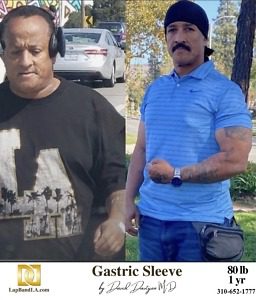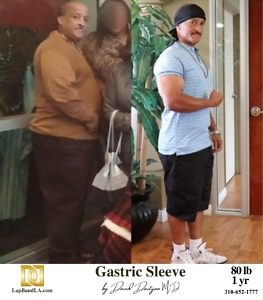 "The surgery was probably the best decision I have ever made!"
"After the surgery, I got so much better. I got off my blood pressure medication, my cholesterol is down. Everything is just better. I haven't had any problems medically since the surgery at all."
"I went down from a 50 waist down to a 34 waist in 5 months! Thank god for the gastric sleeve surgery. It was a really great success!"
"I feel that God has blessed me with this life. I have a beautiful wife, who I work with. We have five yorkie dogs and puppies. And I'm feeling more energized and healthy every day."
When I was in my 30s, I worked at a gym and was committed to my fitness, working out almost every day. When I turned 40, I let it all go, started eating whatever I wanted, and rarely exercising. I gained about 100 pounds during that decade and weighed 268. I had been considering weight loss surgery for a couple years and started going through the beginning stages to check if I was a good candidate for the surgery: doctors appointments, met with a psychiatrist, blood work. In the midst of all of these appointments, I got a new job at Tesla and my insurance changed to United Healthcare. I asked them to refer me to a good surgeon in the area who I could meet with, which is how I found Dr. Davtyan. I met with him at the end of September and during the consultation, my insurance called me with a surgery date in 2 weeks! I started to get a bit nervous, but stayed optimistic by imagining myself looking fit at the end of all of this.
On October 8th, 2019, I got the gastric sleeve surgery. I was sore for a couple weeks, but after I was fine.
Throughout the last year, I've been working out and eating healthier. Dr. Davtyan advised me not to drink protein drinks and stick to natural ways of consuming protein. My daily diet mostly consists of filet mignon and high grade ground beef. I eat a lot of vegetables, mushrooms, cilantro, and collard greens. I'm constantly losing weight and my body is reshaping to the way I've wanted it to look like. I have lost 80 pounds in one year and I'm so happy now. I feel that God has blessed me with this life. I have a beautiful wife, who I work with. We have five yorkie dogs and puppies. And I'm feeling more energized and healthy every day.
Everyone is always surprised when they see, saying "Wow, how did you do that?!" I'm transparent and I tell them about the gastric sleeve. Anyone who wants to lose weight and is serious about changing your life, just do it. I had a hernia, I was on cholesterol medication. I wasn't scared. I wanted to make the change. And I did it!
– Antonio