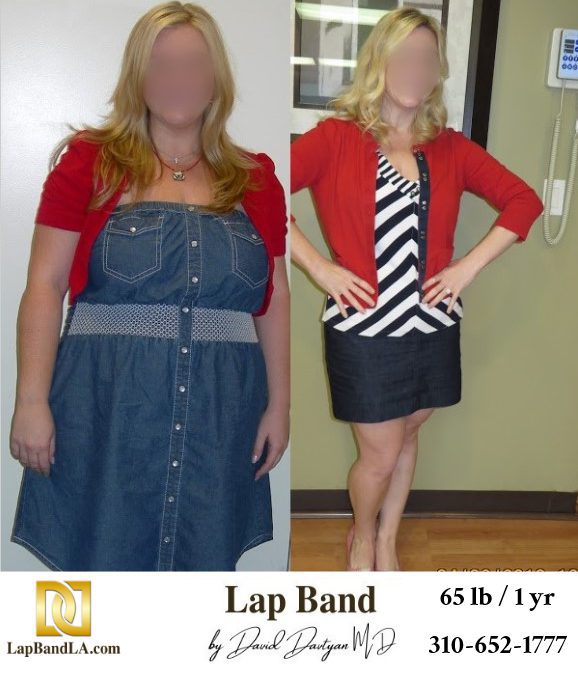 Better everything". My blood pressure is down. I don't snore as much, hardly at all. I have so much more energy. I feel better about myself. I can run with my kids
and grandchildren. Better sex life (I did say everything). Much happier person and I don't feel so desperate or depressed.
I would highly recommend Dr. David Davtyan without hesitation to anyone considering having the Lap-Band AP system placed as a tool for weight loss. I researched two other doctors before making my decision and found Dr. Davtyan to be the most outstanding example in this area of expertise.
I have extreme confidence in Dr. Davtyan and his surgical skills as well as total comfort with the experience because of his medical team's style and approach. Working in the medical setting myself and having multiple family members in the medical profession, I was highly impressed with the medical model Dr. Davtyan and staff utilized in their facility. The anesthesiologist called the night before my surgery to discuss everything that would happen, which greatly alleviated my fears. State of the art HD viewing equipment was used to enhance the surgical procedure producing an almost 3D image that allowed Dr. Davtyan to do the best work possible. I was even told that Dr. Davtyan would repair anything the surgical team encountered, such as a hernia, if it was discovered once in the operating room. No request was overlooked and Dr. Davtyan took the time to personally tell me that both he and his physician's assistant were just a phone call away 24 hours a day, 7 days a week. Dr. Davtyan's integrity came through with flying colors as follow-up/post-op phone calls from both he and Kelly, his physician's assistant, proved to be reliable, comforting, and medically helpful.
There was minimum discomfort the day of the surgery and I recovered easily within a little over one week. My scars are healing nicely and are barely visible. It's been 25 days since my surgery and I have lost 12 lbs. This is extremely exciting for me as I have experienced such difficulty losing weight and keeping it off for the last 15 years. In the past I poured my hope, energy, and finances into every diet-exercise plan out there just to lose minimal weight with maximum effort and then gain it all back plus more. I am now eating smaller portions and feeling very satisfied with the good choices I am making because they are so much easier to make with the Lap-Band. I used to think that bariatric surgery was an absolute last resort.
I looked at it like failure to do it this way because I couldn't lose the weight I wanted to on my own. But now I can say with complete conviction that I'm a true believer in using the Lap-Band as a tool that will help me stay strong and on track with my weight loss goals for the rest of my life. If you or someone you care about is considering the Lap-Band I would strongly recommend meeting with Dr. Davtyan. He has the Lap-Band system himself which makes him that much more capable and compassionate for those who seek a way to lose the weight for life.
L.H